AMERICAN BOXER CLUB AWARD WINNERS
Kennel Breeding the Most Champions:
25 Times (latest awards 2010 &2012)
Kennel Making the Most Champions:
19 Times
12 American Boxer Club Sires of Merit
12 American Boxer Club Dams of Merit
A Boxer record never broken!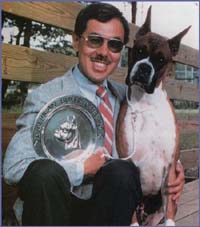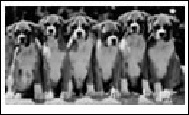 CH. Jacquet's Redhawk, SOM
CLICK HERE TO SEE A FULL PAGE PICTURE OF CH. Jacquet's Redhawk
An important note about Jacquet Boxers
Because of Jacquet Boxers imprimatur, their well known superb temperament, intelligence, excellent conformation and long life, a number of kennels are claiming that the Boxers they sell are Jacquet Boxers. For more than 40 years, I have carefully and diligently controlled our breeding program and very few kennels are actually breeding true Jacquet Boxers today. If there is a question regarding whether or not you are being offered a real Jacquet Boxer, ask to see the AKC Pedigree. A Jacquet dog or bitch should appear in the first or second generation. Ask if there is question!
A Little history:
Rick Tomita and Bill Scolnik, long time partners in Jacquet Boxer, are well known to the Boxer fancy throughout the world. They have produced over 250 AKC champions and at least 500 known champions worldwide. Among these are many top winning and top producing Boxers, all bearing the Jacquet name.
Interested in showing their dogs, Rick (PLEASE CLICK HERE TO CONTINUE)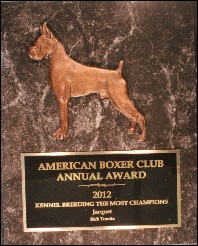 Some of the American Boxer Club Awards that Jacquet Boxers has won most recently
www.jacquetboxers.com

Jacquet Boxers™